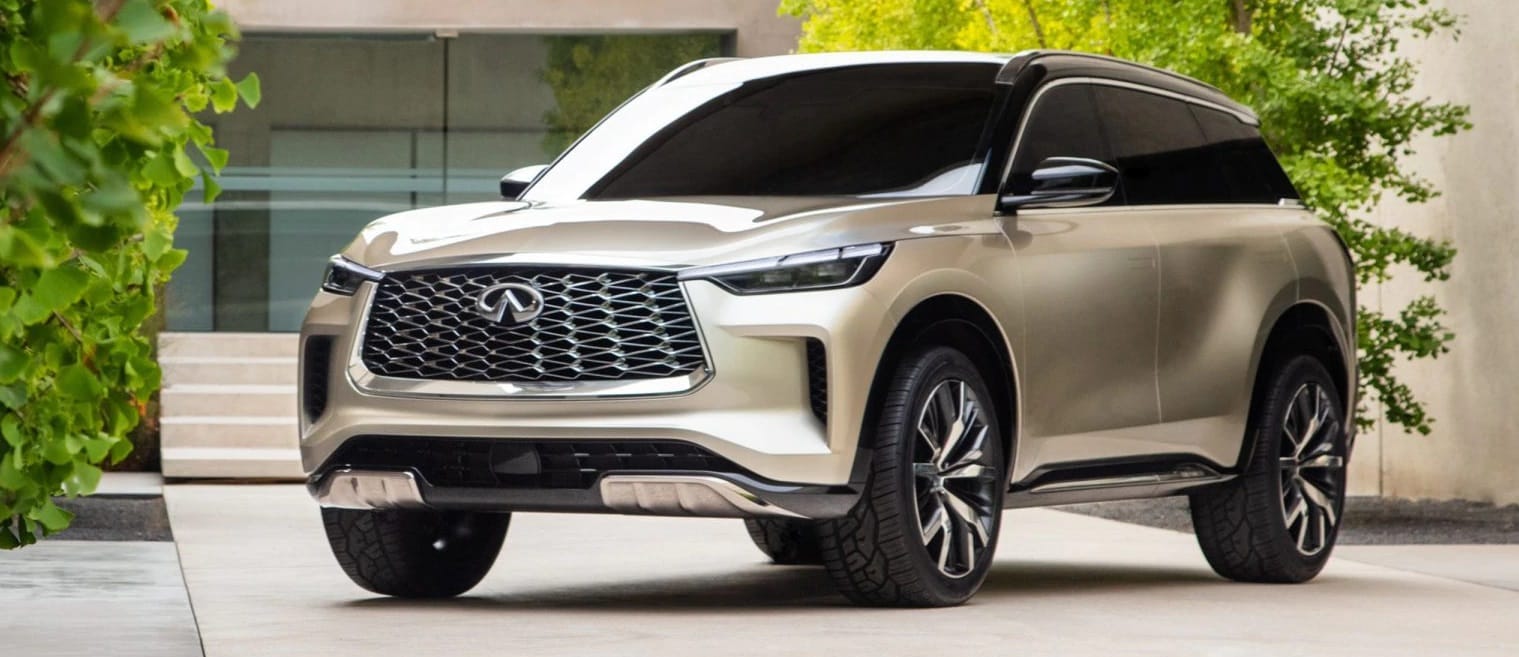 INFINITI QX60 Monograph
The INFINITI QX60 monograph is featured on the medium-size three-row SUV, the QX60.  Although you may be able to find the QX60 with the Infiniti Monograph for sale online, Infiniti of Brampton is the authorized, leading INFINITI dealership in Brampton, Ontario, serving Woodbridge, Mississauga, Caledon, and the surrounding areas.
We also have a wide selection of new and used INFINITI vehicles, including SUVs such as the INFINITI QX50, QX60, and QX80. If you're considering buying an Infiniti vehicle, please complete the online finance application, and a representative from our Finance Centre will contact you to review your auto loan and lease options.
What Is the INFINITI QX60 Monograph?
The XQ60 monograph is a sophisticated design study or concept that provides insight into how it intends to transform a future model.  It offers previews for some of the design elements and proportions that will embellish the brand's future SUV.  It has a straight front grille, narrow greenhouse, an extra-long wheelbase, and a sloping front end. The prototype also has large fenders, larger wheels that fill the front and back fenders correctly, and a roof spoiler.
There's a solid, horizontal line between the front wheel arches that disappears after crossing the rear fender and begins 2 inches under the front fenders. This feature increases the center of gravity to give the monograph a taller appearance.
The INFINITI Monograph Design

The INFINITI XQ60 boasts of carefully designed elements that give it a sleek style. Let's take a look at some of the details.
Improved Lighting
One remarkable design features of the XQ60 monograph is its distinctive lighting. The tail and headlights are wrapped in LEDs and have vertical lines that separate the daytime lights.
The rear and front lamps also have a unique animation. Light radiates from the front side across the tail and headlights. What's more, the side view mirror changes signals.
Interior
INFINITI is yet to release photos of the interior. However, you can expect to see sizeable quilted leather swaths with different colours and contrasting stitches. You're also likely to see suede accents and wood trim with open pores.
Performance
The XQ60 powertrain is another exciting feature. Although it's difficult to guess, the monograph will likely come with a front-drive design. We also hope the three-row SUV will use various engines such as the turbocharged 2.0 litre and 3.0 litre V6.
Stylish Shape
The QX monograph comes with a revamped greenhouse design that eliminates the roof pillar at the back. However, the trim's window has a shape that resembles tweezers, and it blends well with the spoiler at the back.
All the other details are black, making the chrome roof rails and window to be noticed easily. Moreover, the monograph has several Japanese themes, including the 3D origami grille texture.  For more details, please contact us.
Questions about INFINITI QX60 Monograph?