Break Free From Convention, Drive The 2020 INFINITI Q50
The latest Infiniti Q50 is now available for sale in Brampton at Infiniti of Brampton. Aggressive yet refined, the Infiniti Q50 takes your drive to a whole new realm of possibilities. Tap into relentless power or relax in serene luxury. When you grip the wheel, you will feel empowered to drive beyond your inhibitions.
Q50 Exterior
The all-new 2020 INFINITI Q50 exterior begins with a powerful low and wide stance. With its sculpted sleek body and signature double-wave hood, this top of the line sports sedan is built to command attention. Illuminate the road ahead with 2 crescent-shaped headlights, and LED accent lights. Choose from the PURE model for a charged athletic look, or go with the Signature Edition for a more aggressive and refined style. Experience it for yourself! Contact Us and Schedule a Test Drive at Infiniti Of Brampton.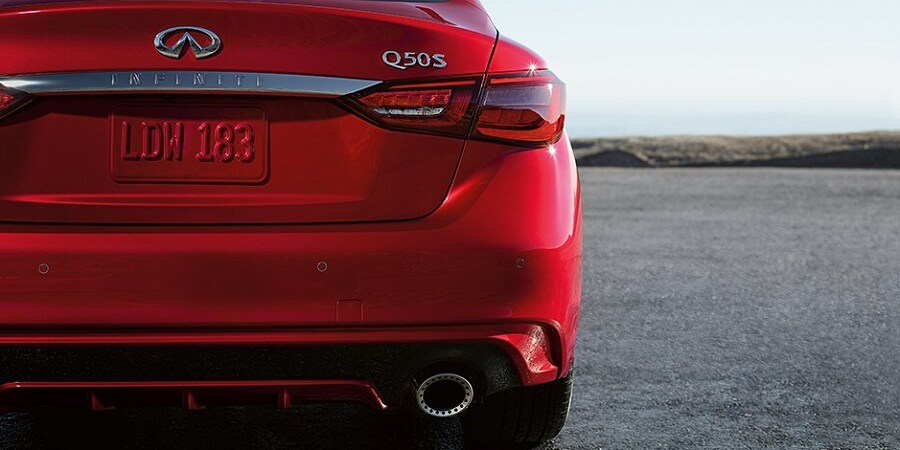 Headlights
The INFINITI Q50 embodies a sleek and captivating look as its two crescent-shaped headlights elongate the front end creating a unique style. It also features stunning LED accent lights, guiding you through all kinds of weather conditions. Details also include the horizontal double-arch chrome grille detail on the front end, and a sculpted aerodynamic body as well as double-wave hood. The sporty exterior look matches its performance drive and leaves a bold impression on while on the road.
Wheels
The 19 -inch custom imported sport wheels allow for the Q50 to excel to its maximum performance in all weather conditions. These wheels are available in a different variety of finishes such as chrome finish machine finish, or dark metallic. This vehicle also includes advanced systems such as Intelligent All-Wheel Drive to ensure a safe commute.
Q50 Interior
Step inside the Q50 and relax. The 2020 Q50 interior is one of the largest in its class. Stunning artistry and specifically engineered ergonomics envoke a luxurious feel. Make every maneuver smooth and instinctive with a sport-inspired steering wheel and matching shift knob. The centre console is designed to give you easy access to the state of the art infotainment system. Swipe through a wide range of apps and services using the dual touch screen monitors, or use the controller dial strategically placed close to the shifter.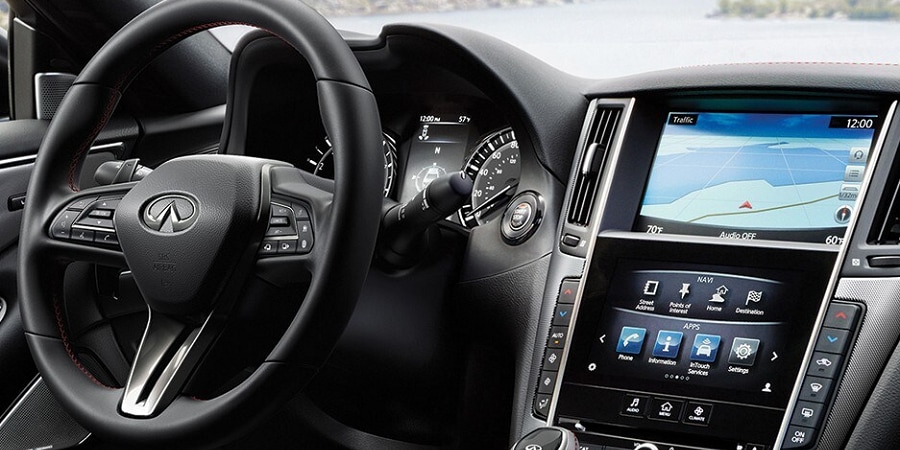 Design
The Q50 Interior is one of the largest and detail-oriented in the segment. From its specialty double-stitching lines to the interior performance-ready leather, your Infiniti will give a luxurious and comfortable feel with every drive. The sport-inspired steering wheel makes for a smooth drive with grip adjusting technology and heated steering options.
Technology
The Infiniti Q50 offers advanced technology such as Apple Carplay and Android Auto, allowing for a safe commute and the ability to stay connected while on the road. Accessibility to Navigation, phone calls, Send and receive messages via voice controls, as well as enable music options. This vehicle also includes the Bose® performance sound system with vibrant surround sound that elevates every drive. 
Safety
With new driver assist technologies constructed in the Q50, you can expect a completely safe and comfortable commute with every ride. With technologies such as forward Emergency Breaking, prevent any potential accidents with the braking technology that automatically disengages the accelerator pedal and applies the breaks. The Around View monitor enables you to get a 360 ° view of all angles that surround your vehicle, assisting with parking as well as alerting you when approaching too close to an object. Dynamic Digital Suspension enables your vehicle to automatically adjust the Q50'S body roll, pitch, and bounce rate for a stable and more controlled drive. To learn more about our Safety Features click here.
The Infiniti Of Brampton Experience
Join us at our location, where you will have access to multiple Infiniti services under one roof. Talk to our Finance Department for current offers on our lease/finance/cash offers and incentives, or chat with our Service Department for assistance with driver-assisted safety features included in the 2020 Q50.
The all-new 2020 INFINITI Q50 is a fierce and power driven vehicle, perfect for those who crave speed and adventure. It's high performance quality and powerful engine is designed to take you on the road and get you where you need to go as quick as possible in style. 
2020 INFINITI Q50 Inventory in Brampton, ON

---
Sorry, no items matching your request were found.
Reset Search
The QX50 was voted best mid-size premium utility vehicle in Canada for 2019, 2019 ALG innovation award, listed among Wards 10 Best interiors of 2019, and listed among Wards 10 best engines of 2019. Contact Infiniti of Brampton today to test drive the all-new 2020 QX50. While you're here, talk to our staff to discover current promotional offers, prequalify for credit, and become a proud new Infiniti owner.