We Are Your #1 Infiniti Dealership in Brampton, ON - Just Read Our Reviews
Our Infiniti dealership success in Brampton is a direct reflection of our customers in Brampton, Caledon, Mississauga, and Woodbridge. Without you, the Infiniti enthusiasts and Infiniti of Brampton loyal customers, we wouldn't be able to represent the Infiniti brand in Brampton adequately. So for that, we say, "Thank You!".
We are dedicated to providing incomparable customer service, superior car care, the latest Infiniti models for sale in Brampton, and quality used cars, trucks, and SUVs to all automotive consumers near the Brampton, Ontario area. If you are searching for an Infiniti dealership near you, we invite you to read our car dealership reviews in Brampton, Ontario. What are you waiting for? Read the Infiniti of Brampton reviews and check out our dealership rating in Brampton.
Wait, not only do we want our new customers to read our Google Reviews, but we also ask that our recent customers write us a review and continue to let us know how we are doing.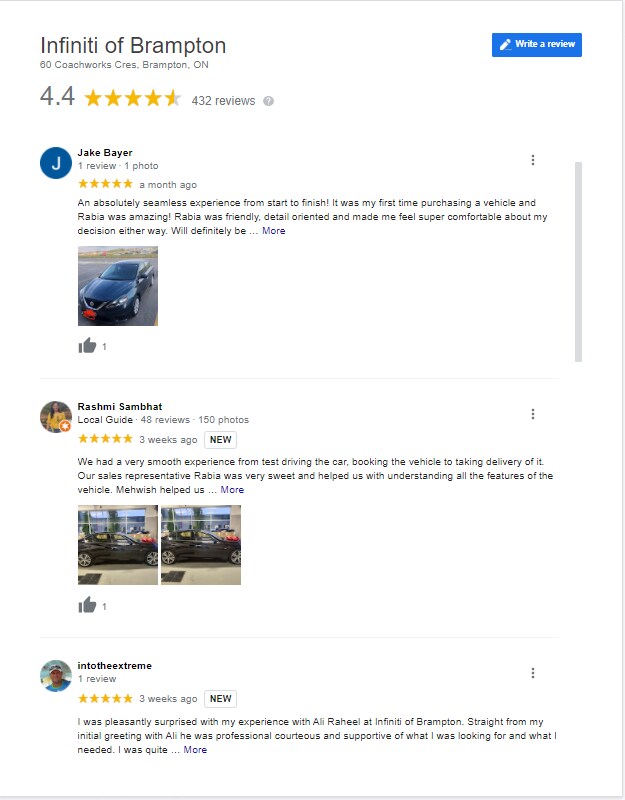 Find Your Infiniti Right Here
Our friendly team of Infiniti experts are eager to help you with all your Infiniti needs. Check out our new inventory to explore the latest Infiniti vehicles, or take your pick from our wide selection of pre-owned inventory. You can always rely on the staff at Infiniti of Brampton to offer prompt, accurate, and excellent customer service. Begin an online chat, email us, or call us. We are always ready to help. Each of our customers will have access to personalized customer service, tailored specifically to their needs. And irrespective of whether or not you choose to start your purchase online or you visit our location, we are here to help.
Thank You For All The Reviews
Much like each Infiniti vehicle is built to enhance your every day driving enjoyment, our team at Infiniti of Brampton wants to deliver an enjoyable automotive consumer experience. If you are looking to buy a new car and want to save money, we suggest you speak with our Finance Department. We offer more finance options and solutions than any other dealership in the area. Our service, combined with Infiniti's luxury features, advanced technology, and comprehensive warranty, makes the decision to become an Infiniti owner the easiest decision you will ever have to make.
Questions about our Reviews?